Before the rally
An Anti-Redskins Protest Even Dan Snyder Can't Ignore
"I can't believe it, it's like a dream or something, I have to pinch myself," says Clyde Bellecourt, long-time Anishinabe activist and founder of both the American Indian Movement and the National Coalition of Racism in Sports, organizers of the "No Honor in Racism" protest and march in Minneapolis when the Washington Redsk*ns play the Vikings this Sunday and being billed in the media as the "largest anti-Redsk*ns protest" ever.
Minnesota's tribes are united: Change that offensive NFL team's name
We will not shy away from the fact that anti-Indian sentiment continues to exist. Racism and misunderstanding of Indians and Indian tribes are roadblocks in our efforts to improve our communities and the lives of our children. One glaring example of anti-Indian sentiment is the use of caricature Indian images or sports team names.
Minnesota Tribes Sponsor 'Proud to Be' Ad During Redskins Vikings Game
The Shakopee Mdewakanton Sioux Community and the Mille Lacs Band of Ojibwe are sponsoring a TV ad during Sunday's Minnesota-Washington NFL football game decrying the Washington team's name.
Record turnout expected for Indian nickname protest
"Researchers have done studies on this and found that these images harm the self-image of native kids. And yet, when we tell people that this doesn't honor us, and we don't like it, they cannot accept that. It's not enough to have us say that."

"If you didn't know, now you know. So why do you keep doing it? It's all tied to the racist stuff," Knutson-Kolodzne said.
At the rally
Thousands of Native Americans protest Washington football team's name outside stadium
Preparations for the protest began months earlier, and only about 900 people were expected to attend. However, organizers estimate that over 5,000 people were in attendance—police put the number of attendees closer to 3,200.
Bad day for the Washington Redskins: Bus crashes on the way to Minnesota Vikings game before 5,000 demonstrators descend on stadium protesting 'racist' nickname... and then they LOST
It was a bad day for the Washington Redskins as the football team was involved in a bus crash before a crowd of 5,000 protesters descended on the stadium rallying against the squad's divisive nickname.
In Minnesota, thousands of Native Americans protest Redskins' name
At what was hailed by organizers as the largest-ever protest of the Washington Redskins' name, a group of Native Americans stood outside the University of Minnesota's TCF Bank Stadium in a plaza built as a tribute to 11 of the state's tribes. A man in the middle held up a sign painted in bold black letters: "RACIST."
Below: Amanda Blackhorse, Simon Moya-Smith, and Tara Houska.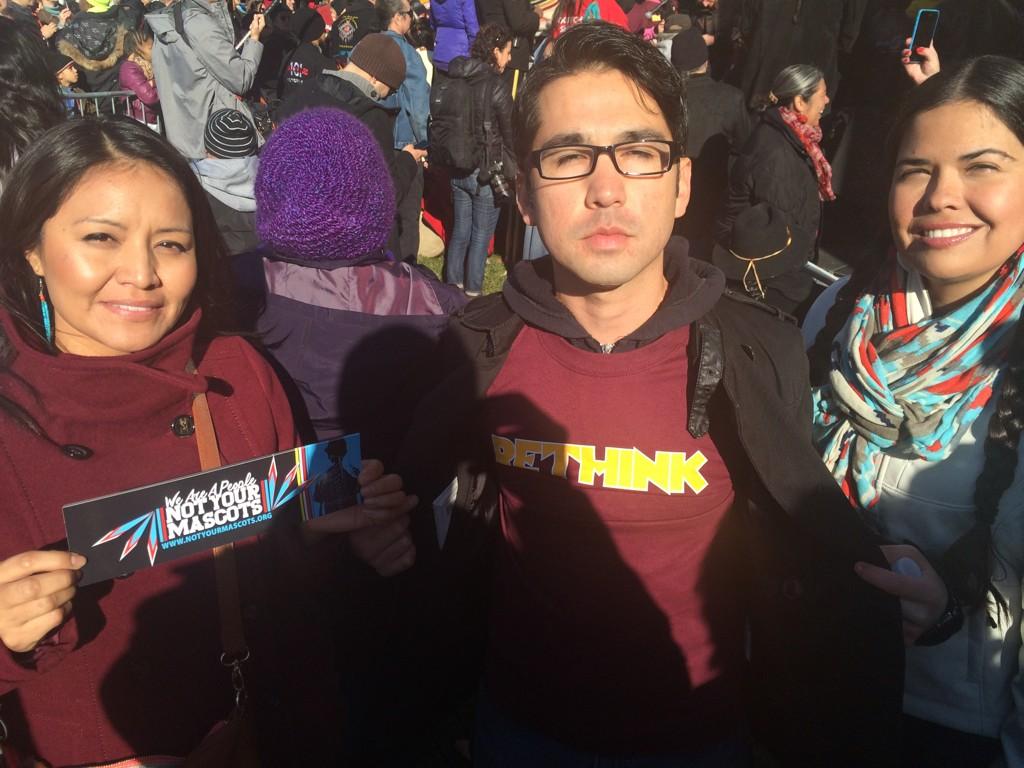 Thousands stage Redskins protest
With many of the attendees wearing colorful, traditional Native American clothing and more holding signs, the gathering was by far the stiffest resistance for a Redskins road game and the latest push in a nationwide campaign that has cranked up over the last year. Some people wore burgundy T-shirts with gold lettering, mimicking the team's logo with the words "Rethink" and "Rename" instead of Redskins.
Political leaders protest Redskins name at #NotYourMascot rally
Congresswoman Betty McCollum, of Minnesota's Fourth District, was also present, calling for "respect and dignity" for all people. A congressman from Minnesota's Fifth District, Rep. Keith Ellison chimed from the rally as well, posting a photo with civil rights activist Dick Gregory.
What they said
Nickname protesters tell NFL: 'We are not mascots'
Standing on a raised platform, Minneapolis Mayor Betsy Hodges led the throng in a loud chant of "Change the Name," a slogan repeated throughout the day. Said Hodges, "I have a message to the Washington team: The clock is ticking on your name … it is more than an insult. It's hate."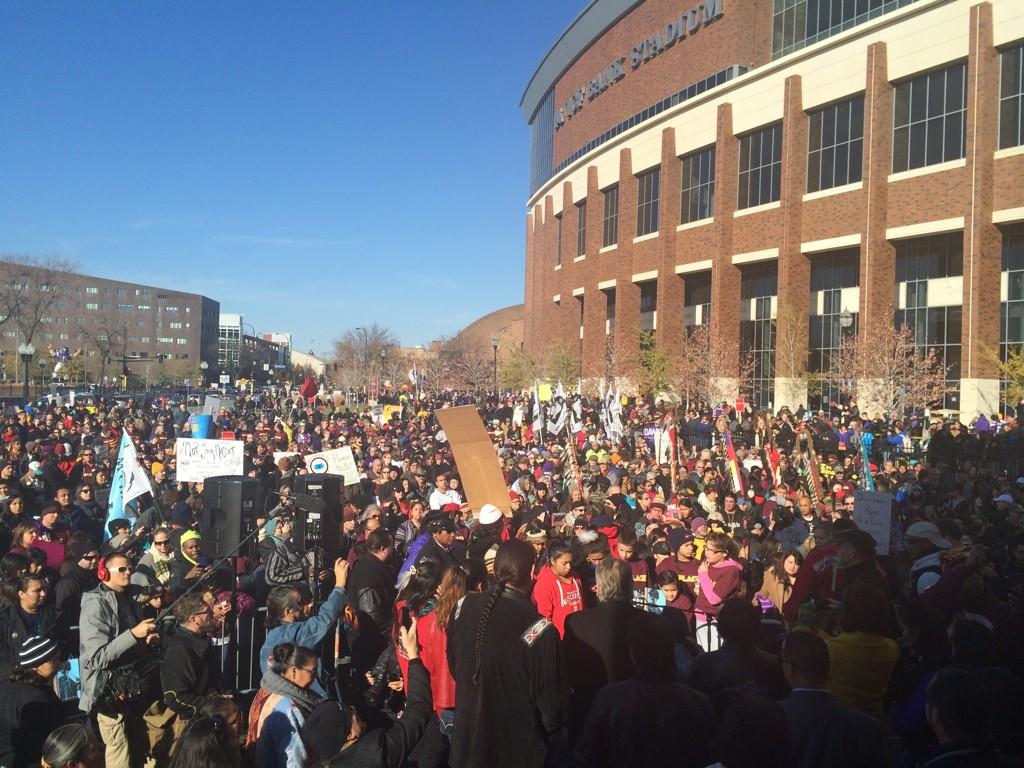 Not Your Mascot: Inside the March Against Dan Snyder's Racist NFL
"I have a message for Dan Snyder," Melanie Benjamin told the protestors in one of the most satisfying speeches of the day. "You are on the wrong side of history, the wrong side of social justice, the wrong side of human rights. We will not stop until that name is changed, and we will never give up.

"And Dan Snyder? You can put that all in caps."
Why the Movement Against Washington Football's Racial Slur Is 'Idle No More'
The strength of today's protest demonstrates the growing shift in consciousness around issues of Indigenous representation. As we come up on the second anniversary of the first Idle No More teach in, there are now more and more Indigenous voices entering and changing discourses on mascots, land claims, and historical events. Thanks to social and alternative media, we now have the opportunity to tell our own stories, rather than someone speaking for native people and claiming they know what "honors" us. Snyder and the Washington team are fighting a losing battle. At this point, it's clear that the issue won't simply go away. Our voices and resistance are only growing stronger.
Photos:
Minneapolis No Honor in Racism Protest
Comment: For more on
Redskins
protests, see
Ban "Redskins" at Vikings Game?
and
Natives Protest Redskins in Phoenix
.