A correspondent comments on
SCALPED's totem pole
:
What???? Isn't that like a story set in Russia with the Effiel Tower featured in it? I live in totem pole country. We understand totem poles. No totem poles outside the Pacific Northwest unless they were a sacred gift from a Pac. NW tribe or some artist really needed the money--well, there are the pathetic attempts at totem poles, but never the real thing--and we can tell at a glance from looking at them all day every day.

Linde Knighton--a Native living in Seattle.
Comment: It's obviously a non-Indian's attempt to draw a totem pole. It looks phony.
In the comic it's lying against a barn, discarded. I wouldn't be surprised if that violates a Northwest Indian taboo or custom.
And of course there's absolutely no reason for the pole to be in South Dakota in the first place.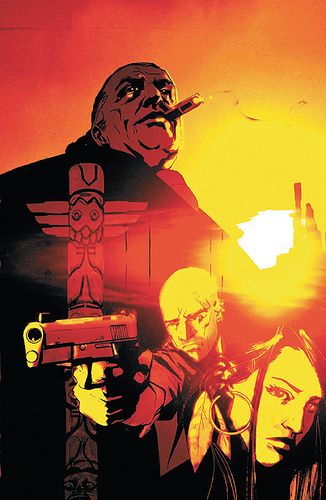 And I love the image below from the cover of SCALPED #5. Forget the stereotypical alcohol for a moment. A tomahawk?! If Vertigo's people are intentionally trying to annoy us, they could hardly do a better job of it.
Moreover, the cover of SCALPED #6 features a face with war paint. But we haven't seen a teepee, an arrowhead, or a peace pipe yet. Can we expect those on the covers of SCALPED #7-9?
Get a clue, Jason Aaron. The chief, the totem pole, and the tomahawk on your covers are clear evidence that your comic is stereotypical. Do something about it or continue to earn my scorn.