No Oscar for redface–but is that progress?
By Adrienne Keene
Last night, when the category came up for Best Makeup and Hairstyling, I held my breath. Luckily, the award went to Dallas Buyers Club, which had an overall budget of $250 FOR THE WHOLE MAKEUP FOR THE WHOLE MOVIE (ETA: Dallas Buyers Club is not without controversy over representations as well. There are folks in the trans* community who are very unhappy about the ways their community was portrayed in the film). Not that it looked like Lone Ranger spent any more than that with JD's day-after-halloween-slept-in-your-facepaint look. But anyway.

So does that mean anything? Hooray, a movie didn't win an Oscar for its brilliant use of redface? Not really, but it does bring to light some bigger issues. Before and during the Oscars, a group of Native activists organized a "twitter storm" using the hashtag #NotYourTonto to focus on the ongoing issues of misrepresentation of Native peoples in Hollywood. The series of tweets from everyone last night was really powerful, and shows how in 2014, the one-sided stereotypes that represent Native peoples in mainstream film really haven't progressed at all. In 1973 Marlon Brando famously refused his Oscar and had Sacheen Littlefeather take the stage to protest the treatment of American Indians in Hollywood, and I think this portion of the speech, which didn't air, is incredibly pertinent:

Perhaps at this moment you are saying to yourself what the hell has all this got to do with the Academy Awards? Why is this woman standing up here, ruining our evening, invading our lives with things that don't concern us, and that we don't care about? Wasting our time and money and intruding in our homes.

I think the answer to those unspoken questions is that the motion picture community has been as responsible as any for degrading the Indian and making a mockery of his character, describing his as savage, hostile and evil. It's hard enough for children to grow up in this world. When Indian children watch television, and they watch films, and when they see their race depicted as they are in films, their minds become injured in ways we can never know.

1973. Forty one years ago. And those are words I could have easily written on my blog today. Rob Schmidt from Bluecorn Comics pointed out on twitter that the image of Tonto was the only Native the entire audience would see last night.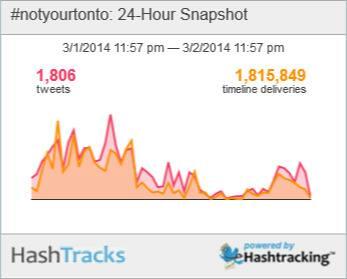 #NotYourTonto Sparked an Internet Backlash for All the Right Reasons
By Andrea Garcia-Vargas
Indigenous activist and writer Jacqueline Keeler came up with hashtag #NotYourTonto to respond to the nomination. Keeler, who had also organized the hashtag #NotYourMascot to protest the Washington Redskins during the Super Bowl, teamed up with fellow indigenous activist Ethan Keller to organize a Facebook event and Twitterstorm starting the night of March 2. The National Congress of American Indians and EONM (Eradicating Offensive Native Mascotry) also signed on to help promote the movement.

It seemed to work. As the Oscars got underway on Sunday, the hashtag began to really take off.

Soon, it was trending all over the U.S.

In fact, Keeler noted that by the end of the night 1.8 million people were involved.
In a tweet Keeler added:
@bluecorncomics @AndreaGarVar Our latest analytics say 2.5 million reached by #NotYourTonto! Thanks for all your help!
What the NotYourTonto Twitter Storm Looked Like [24 Images]
For more on the subject, see
Faux Indians at the 2014 Oscars
and
Before the #NotYourTonto Storm
.