'Shockingly racist' sign about Chiefs, Redskins brings restaurant apology
By Simon Moya-Smith
A Sonic Drive-in signboard that carried a "shockingly racist" message about the NFL's Kansas City Chiefs and Washington Redskins prompted an apology from the restaurant chain on Sunday.

The uproar began after a photo circulated on Twitter showing the sign in Belton, Missouri. The sign, which has since been taken down, read: "'KC CHIEFS' WILL SCALP THE REDSKINS FEED THEM WHISKEY SEND - 2 - RESERVATION."

On Sunday, the Washington Redskins lost to the Kansas City Chiefs in Landover, Maryland.

Patrick Lenow, vice president of public relations at Sonic, told NBC News that the sign was created by an employee who is "known for creative use of his signs," but that this sign was done "in poor taste."

"The remarks posted on this message board were wrong, offensive and unacceptable," Lenow said in a statement. "In a misguided effort to support his football team an independent franchise owner allowed passion to override good judgment. The owner has reinforced with his employees the boundaries of what is acceptable and unacceptable. On behalf of the franchise owner and our entire brand we apologize for the offensive remarks."

Lenow said the message was up for only "a matter of hours" and has since been taken down and that the employee who created the sign is "very apologetic."

Still, Native Americans excoriated the sign as indicative of why Native American mascots need to be banned.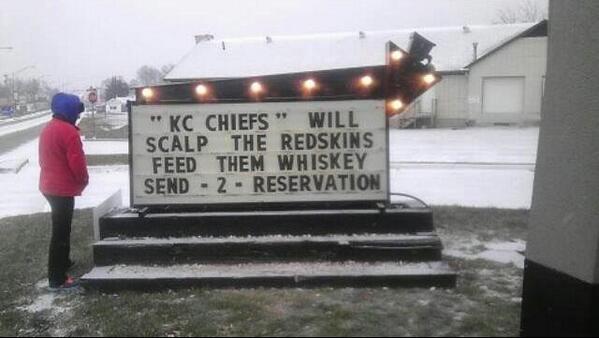 Round 2
So the Sonic employee quickly removed the sign, Sonic HQ quickly apologized, and that's the end? Not quite.
Second Racist Sonic Sign: Scalp and 'Drain the Firewater' of Redskins
By Vincent Schilling
On Sunday, December 8 a Belton, Missouri Sonic Drive-In Restaurant posted a sign emblazoned with the phrase "KC CHIEFS" WILL SCALP THE REDSKINS FEED THEM WHISKEY SEND – 2 – RESERVATION.

Hours after the sign was taken down, the Sonic Corporation issued an apology, which partially stated:

An independent franchise owner allowed two sets of remarks to be posted on a message board outside his restaurant. The remarks were wrong, offensive and unacceptable.

The first sign was replaced by another which read: "KC CHIEFS" WILL SCALP THE REDSKINS DRAIN THE FIREWATER -- OUT OF THEM --
Natives fight back
I don't know about Sonic HQ, but the Sonic employee is either insincere or woefully ignorant of what's offensive. But the Redskins/Chiefs game and the resulting Sonic signs generated two social media campaigns.
Social Media Groups Rally for FCC Complaints of 'Redskins' Chiefs Broadcast
By Vincent Schilling
Several groups on social media are rallying to collectively and individually file FCC complaints against today's NFL broadcast of the Washington Redskins Kansas City Chiefs game. They say that the team's name is too offensive and indecent to be on television and that it must be banned from broadcast.

The formal complaint, or FCC Form 475B is the Obscene, Profane, and/or Indecent Material Complaint Form and it can be found on the agency's website. These complaints are another way people are saying that the NFL team's name must change.
I believe this protest was planned before the Sonic signs came to light, but the signs fueled more activism.
A Tweet About Indian Mascots Went Viral; You Can Do It, Too
By Jacqueline Keeler
Monday morning I looked at my Twitter (@jfkeeler) Interactions list and I was surprised to see that Jake Tapper, CNN anchor had answered an obnoxious response to my tweet "Why Indian Mascots Need to End in a Picture" featuring a photograph I had clipped from a Facebook post of a Sonic Drive-in in Belton, Missouri with a sign that read, "KC Chiefs" Will Scalp the Redsk*ns Feed Them Whisky Sent - 2 - Reservation." He said to the troll, "you truly can't understand why a Native American would find that offensive?"

When I tweeted him the photo with my one-line observation, I didn't really expect him to retweet it. I sent it to many high-profile media figures (actually, I was most hopeful that Rachel Maddow would retweet it) and was pleased when he did retweet it Sunday night. He or one of his staff, because I'm sure not all media figures read their own Twitter accounts. Jake Tapper (@jaketapper) has over 300,000 followers on Twitter--not in the Kardashian range, but still, respectable.
Sonny Skyhawk adds a note about Sonic's apologies:
Sonic Industries based in Oklahoma City, Ok. responded with a boiler plate acknowledgement of the Belton, Missouri, franchisee sign disparaging our Native people. Feeling that was not good enough, I contacted Clifford Hudson, the CEO of Sonic. and have obtained not only a written apology, but an assurance that they will incorporate a break-out session at their next Corporate convention specifically addressing diversity issues and using the sign in Belton, Missouri, as an example of what not to do. They also will issue an immediate notice to all franchisee's, that it will no longer be tolerated, intentionally or not.
Everyone hates "Redskins"
Meanwhile, criticism of "Redskins" continues from a variety of sources:
Who's come out against the Redskins' name now? Priests.
By Theresa Vargas
Dozens of area clergy members have signed a letter to the owner of the Washington Redskins and the commissioner of the National Football League, calling on the team to recognize that "words can cause great pain" and change its name.

"The derogatory term 'redskin' offends many Native Americans and others in this country," said the letter signed by 61 faith leaders. "This word, defined in the dictionary as a slur, should not be publicly marketed and celebrated in America, which is built on the ideals of respect and inclusion."

The missive marks the latest effort in the push to change the team's name and was endorsed by leaders across faith communities, including Lutheran, Baptist, Jewish, United Church of Christ, Buddhist and Muslim.