Taking their orders from talk radio, a flock of sheep-like conservatives protested on Tax Day. Dressing up as phony "patriots" and "Indians," they dumped tea to complain about
their loss of white privilege
government spending and bailouts.
Here's how stupid these protests were:
1) Obama isn't raising taxes except on those who earn more than $250,000. Almost everyone at the protests will get a tax
cut
, not a tax increase. Stupid #1.
2) The only reason Obama is bailing out the banking industry is because every responsible economist and politician has said it's necessary. It's similar to the bailout of the savings and loan industry under Reagan, which none of these hypocrites protested. Stupid #2.
3) George W. Bush created the soaring national debt, the recession, and the banking crisis with his ignorant economic policies, but none of the protesters noted this. We've rarely been a better example of conservative hypocrisy. If a Republican spends the government into debt, he's the second coming of Christ. If a Democrat does it, he's Hitler incarnate. Stupid #3.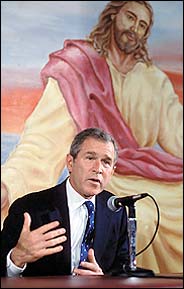 4) Obama continues to enjoy a popularity rating of 60-70%. But Fox News, the PR arm of the Republican Party, gave the impression that most Americans are angry at Obama. Implying that the protesters were more than a tiny minority was a flat-out lie. Stupid #4.
5) "Teabagging" is a kinky sexual practice, so the protesters made themselves into a national laughing stock by calling themselves "teabaggers." Stupid #5.
Since this protest was stupid and hypocritical--again, most people are getting tax cuts and there was no word about Bush's responsibility--you have to wonder what was really behind it.
For starters, conservatives were clearly crying because grumpy old McCain lost the
2008 election
to "that one"--i.e., the better man. That much is obvious.
The real question is how much of the protest was based on their fear and hatred of a black man in the White House. A lot, I'd say. If there was a sincere bone in the protesters' bodies, they'd blame the eight-year GOP hegemony, Wall Street, and the banking industry for causing the problems. And not Obama for trying to fix them.
The Indian aspect
A few protesters dressed up as Indians, presumably to emulate the faux Indians at the original Boston Tea Party. They looked even stupider than the other protesters.
If you can't read the text, the slogans say:
"On Warpath Against More Taxes!"
"Paleface Taxes Too High"
"Let Little Brave Keep Wampum"
These protesters are dressed in leathers and feathers like stereotypical Indians. Their slogans are blatant stereotypes. They're stupid in almost every way you can imagine.
Ironically,
Indians voted for Obama
by something like 9-1. That's because
most Indians are Democrats
and
Democratic values = Indian values
. And that's because
it's the economy, stupid
. Unlike unthinking white people, Indians can look at the economic record and see that
Democrats are better money managers
.
So it's a double insult to pretend that Indians might oppose Obama in numbers. In general, Indians are more intelligent than that. They know which party cares about people and which cares about profits.
Little chief with big savings
Just as bad is this young
dupe
protester. One, you don't wear a chief's headdress unless you're an Indian who has earned the privilege from your tribe. Two, there weren't any Plains Indians at the Boston Tea Party. New Englanders didn't know Plains Indians existed at the time.
And three--again--Obama isn't "robbing" any kid unless he earned more than $250,000 last year and kept the money in his piggy bank. Stupid, stupid, stupid.
Dressing up as Indians is equivalent to emulating African Americans in blackface. These people don't know or care that they're insulting Indians. They're acting out their racist mindsets.
In short, they're typical conservatives--bitching and moaning about losing the white power they've worked centuries to gain. "Look out! The blacks and Indians and gays and immigrants are coming! Circle the wagons...they're
threatening our manhood
on the warpath!"
Wrapping it up
Here's a clue, you addle-brained conservatives. If you don't like the way we're running the country, elect your own candidate president. Oh, wait...you had a chance to do that just five months ago. Americans roundly rejected your approach to governance--preemptive wars, faith-based science, giveaways to the rich, etc. They voted for intelligence and humility over stupidity and arrogance.
If you can't wait until 2012, feel free to get the hell out of the country. The US has
lower taxes
than almost every other industrialized nation, but maybe you can find a lower-tax country somewhere. Heck, maybe you can start your own tax-free country on a desert island or Antarctica or somewhere. But quit whining like whipped curs, you spoiled rotten losers. The majority has spoken and they want Obama to clean up the mess Bush made by pooping in America's pants.
For more on the subject, see
The Political Uses of Stereotyping
.
Below: "We're racists and we don't care who knows it!"