In
Frost/Nixon
, the PSA featuring Iron Eyes Cody as the crying Indian appears on a TV screen for a couple seconds. This gives me an excuse to say I just saw
Frost/Nixon
.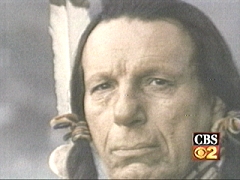 The movie did a fine job of making the preparations for a TV special into a real drama. It would've been better except for the over-the-top late-night call before the last interview. And for Nixon's sudden transformation from intellectual boxer into punch-drunk has-been.
Apparently the final confrontation was completely phony. In fact, many of the movie's key aspects were phony. I guess the only way they could make the story dramatic was to falsify it.
Nixon v Frost: The true story of what really happened when a British journalist bullied a TV confession out of a disgraced ex-President
Frost/Nixon

: A Dishonorable Distortion of History
Film Review:

Frost/Nixon
Frost/Nixon's

Self-Congratulatory Revisionism
By now you should know my position on
portraying history accurately
. If you can't make a true story interesting without falsifying it, then don't. Make up a story instead.
Frost/Nixon
would've worked just as well--maybe better--if it were about a fictional journalist interviewing a fictional president. The subject could've been the president's decision to invade a Middle East country based on trumped-up intelligence after a terrorist act it didn't commit. The goal could've been to get the president to admit he was wrong, the invasion wasn't justified, and he committed crimes in his zeal for vengeance.
Frost/Nixon
does get a bonus point for using my hometown of Palos Verdes as a stand-in for San Clemente. Of course, it was totally obvious to anyone who's been to Palos Verdes or San Clemente.
Images: Archival & Cinematic
One of the expectations in a play-to-film transition is an opening up of the theatrical space to a more cinematic canvas. A scene during a lunch meeting with Nixon and his agent, Swifty Lazar, was such an opportunity. A home in Palos Verdes, standing in for La Casa Pacifica, offered a spectacular ocean view, and seemed a much more cinematic choice than the dining room that was scripted.
Except for his crimes against the Constitution, Nixon wasn't a bad president. As I've noted before, he was a great president for Indians. For more on the subject, see
"Dickie, Don't Forget the Indians,"
Why Nixon Did It
, and
Best President for Indians--Ever
.
Rob's rating: 8.0 of 10. (The first 3/4 of the movie was more like an 8.5.)