Is Warwick's Indian logo racist?
Students plan a petition campaign to erase American Indian face logo from athletic uniforms and gym floor, among other places.
A group of Warwick students have won a partial victory in their quest to banish from the district the logo of an American Indian, which they say is racist.

High School principal Brian Ginter has promised that the American Indian emblem will not appear this school year on report cards, student IDs and student planners.

But it's not vanishing from the athletic department of the Warwick Warriors, the students were told.

So students plan to petition the school board. When school begins they will collect signatures and also send them to the state Department of Education, their leaders say.

The image used by Warwick High School depicts an American Indian with a brown or red face (depending on the particular image), aquiline nose and braided black hair.

"I don't know how they don't see that it's racist," says Matt Diabes, who graduated from Warwick in the spring.
Comment: I'd say the Warwick logo is stereotypical rather than racist. It would be racist if it were a gross caricature of an Indian, like
Chief Wahoo
. But although it's crude and ugly, with its weird white lips, this is a more or less realistic depiction of an Indian. It's stereotypical because it depicts a generic Indian warrior rather than one particular to the Warwick area.
For more on the subject, see
Team Names and Mascots
.
Below: Racist and stereotypical Chief Wahoo: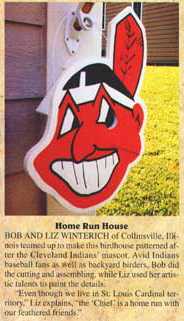 Stereotypical but not racist Warwick Warrior: