Another
goofball comment
that I have to respond to from
"Go Back Where You Came From"
:
Those [colonizers] that are descended from the Europeans that founded the United States and built the country are the true natives, for without the original European colonisers, there would be no United States today!
My response:
For starters, the colonists at places like Jamestown and Plymouth would've died if the Indians hadn't given them charity (i.e., welfare handouts) in the form of food. So there might be no United States today without the Indians either.
Writers have speculated what would've happened if disease and warfare hadn't killed so many Indians. I've discussed this speculation in
Was Native Defeat Inevitable?
Short answer to the question: No, it wasn't inevitable. If history had changed at one or two key points, a patchwork of multiracial, multicultural Native and Anglo nations might inhabit North America today.
And who's to say if this patchwork would be any better or worse than the United States? Has world history suffered greatly because North America was split between Canada, the US, and Mexico? Would things have been better if the US controlled the entire continent rather than only 40% of it? If you think so, prove it.
If splitting the continent into three large countries plus several smaller ones was no impediment to progress, who's to say splitting it into seven or ten medium-sized countries would've been an impediment? Spain and Great Britain established worldwide empires from much smaller land bases than the US has. So greatness has no necessary correlation with size.
Again, the "necessity" of European colonization is something you'd have to prove--and of course you can't. So spare us your supremacist talk of how the US is perfect and unique and irreplaceable. None of these things is necessarily true.
A modern Indian nation
If Europe hadn't colonized North America, it might've come to be dominated by the United States of the Haudenosaunee (USH): a peaceful and democratic nation founded on the principles of the Iroquois League. Perhaps this nation wouldn't have cleared the forests, killed the wildlife, and polluted the air and water, so the continent would be much better off environmentally. Perhaps this nation wouldn't have imported slaves from Africa, so it wouldn't have needed a Civil War or a civil rights movement. Perhaps the lack of
genocide
would've inspired
Adolf Hitler
to stick to house-painting rather than instigate World War II and the Holocaust.
Again, who knows? If you disagree, prove your case. Don't bother me with worthless opinions about how great the United States is.
In any case, being a successful "colonizer" still doesn't make you a "native." The two words are still near opposites. So your "Europeans as 'true natives'" comment is flatly wrong.
But thanks for demonstrating the ideology of white supremacy so plainly. Europeans "made" this country, so they "own" it. Everyone else--blacks, Latinos, Asians, even Native Americans--is unimportant or irrelevant. Congratulations on finding an incredible (but stupid) way of redefining "non-native" as "native."
For more on the subject, see
The Myth of Western Superiority
and
Multicultural Origins of Civilization
.
Below: America's first welfare recipients.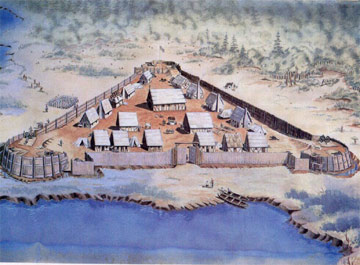 "Please, sir, I want some more."