Another excerpt from a newsletter by Chuck Rozanski of Mile High Comics (August 25, 2009):
I have all sorts of stories from Indian Market that I plan to pass on to you in upcoming newsletters, but I thought I would start by mentioning that the connection between comics art and Pueblo art is starting to become amazingly strong. To illustrate my point, I've included two images from this year's event. The first is a wonderful adaptation of a TALES OF SUSPENSE cover, by Jason Garcia. Originally painted on a clay tile, Jason transformed this image of the Popay, the leader of the 1680 Pueblo Revolt, into a superhero image. Given that Popay successfully led a loose confederation of tribal people armed only with spears and stone clubs against a Spanish occupying force that had horses and guns, the superhero attribution may not be too far off. Whatever the case, Jason's printed interpretation of his original clay tile won more ribbons in the SWIAA judging than any piece I've ever seen entered. That's pretty darn good for an image that might not even have been allowed into judging 20 years ago because it would have been considered far too influenced by Anglo culture.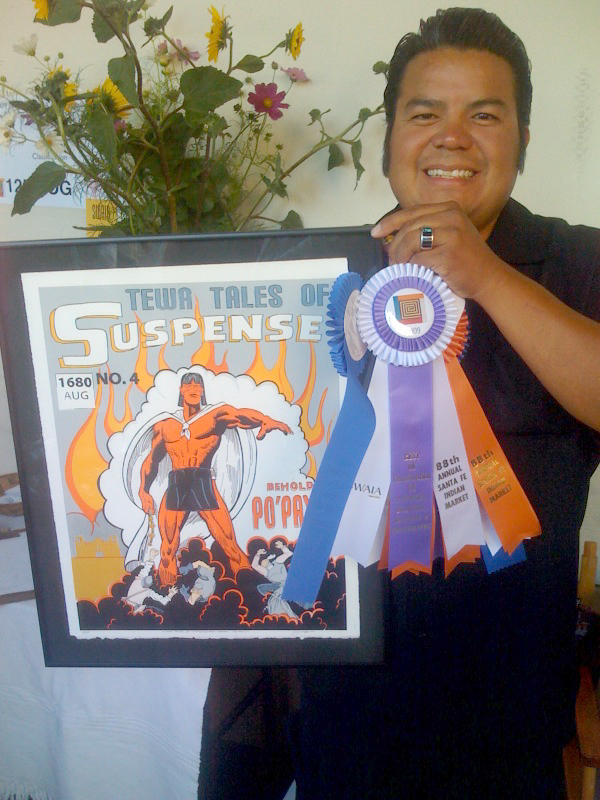 The second illustration is by my good friend Diego Romero. Diego has been featured in this newsletter previously, as he has been a huge comics fan ever since he was living in Berkeley as a small child during the 1980's. Diego choose to create a tribute to Jack Kirby as his primary piece for this year's Indian Market, featuring a Pueblo warrior with a stone club (Popay?) in hand-to-hand combat with a Spanish conquistador. If the pose of the image seems familiar, but you just can't place it, check out the cover to Captain America #106.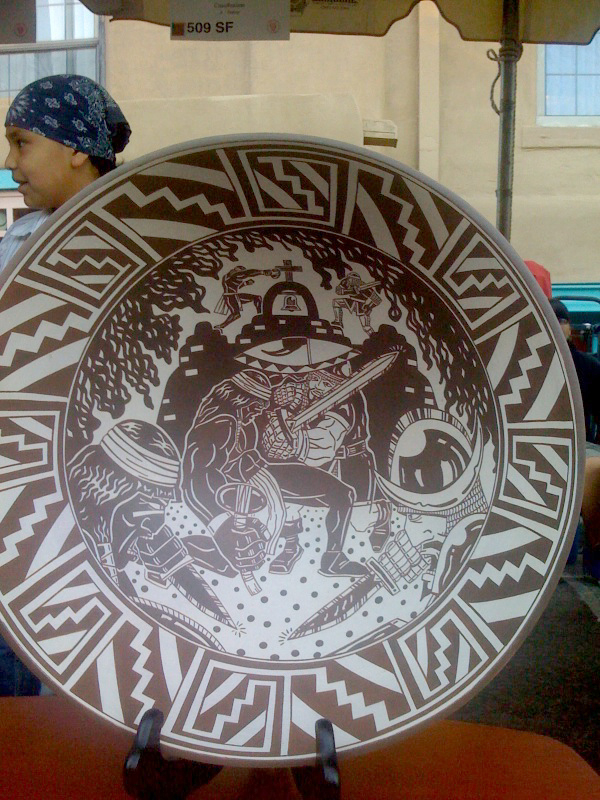 As an aside, this huge bowl should have also have won several ribbons, but Diego had some serious family issues arise just before market. That meant that he wasn't able to get his bowl fired until the actual morning of Indian Market, too late for Friday morning's judging session. Given that some of Diego's less elaborate bowls are already prominently featured in the Smithsonian and British Museum collections, however, I'm certain that this incredibly detailed work would have taken best of class, if not best of division.
Comment: For more on the subject, see
Jason Garcia's Tewa Tales
and
Indigenous Comic Art
.