Mardi Gras Indian Suits Now Copyright Protected
By Alex Rawls
Mardi Gras Indian costumes are now officially works of art. Fans of the New Orleans Indian tradition have long held this view, but the US Copyright Office recognized the suit of Creole Wild West's Chief Howard Miller as sculpture/3D artwork effective April 13, 2010. So far, 10 Mardi Gras Indians have applied to copyright protect their suits, which would mean among other things that photographers would have to pay them to sell shots of their costumes in some circumstances.
And:
The cost of the suits and the history of economic hardships for Mardi Gras Indians is part of the impetus for seeking copyright protection. For years, Indians and members of social aid and pleasure clubs have feared that while they were financially struggling, photographers were shooting and selling their likenesses without giving them a cut. The concern that they were being exploited is longstanding, but Keaton hopes that this ruling will create a win-win situation.
Comment: For more on the subject, see
"Redskins" in Mardi Gras Costume
and
Exploitation Upsets Mardi Gras Exploiters
.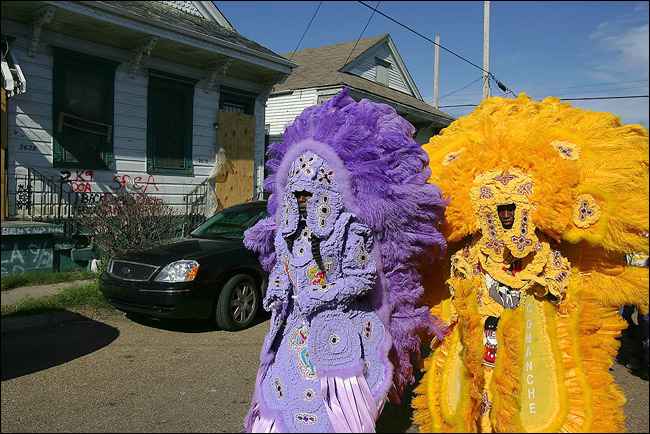 Similar costumes that may deserve copyright protection also: