Hey, white people! Are you upset that your only sports mascots are occupations? (Cowboys, Packers, 49'ers, Pirates, etc.) Do you wish
you too
could be honored for your noble ethnic heritage?
Well, here's a mascot for you!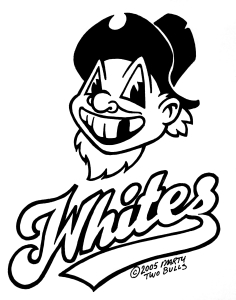 Note that it's exactly as dignified as a typical Indian mascot. Go ignorant hillbilly whites! Go
savage
warrior
redskins
! Yay!
Back to reality
Marty Two Bulls of Indian Country Today gets credit for the drawing. I just came across it in my vast collection of stereotypes and thought it needed posting. What with all the talk of
Dudesons
and
stereotypes
recently.
Any resemblance between this stereotype of whites and the
Dudesons' stereotyping of Indians
is purely coincidental, of course.
Jennifer Yuhas Gall thought this was funny. I suggested she run with it and she did. Here's her posting on the subject:
Cleveland Indians Announce Team Name and Logo Change!
I stopped a few fans exiting Progressive Field today, and asked for their thoughts about the team name and logo change. These are a few of the remarks shared with me from Cleveland fans:

"Cleveland Whites? That's offensive as hell. Whose idea was that? Dolan's? If he thinks I'm wearing a shirt that says the Cleveland Whites, he's outta his f***ing mind."

"Is this a joke? Is this supposed to be funny? Cleveland Whites? With a bucktoothed redneck logo? Yeah, real funny. Dolan can't get away with this s**t."

"Who's gonna wear a t-shirt with a cartoon of a redneck on it? Cleetus? Its name is Cleetus? Dolan's lost his f***ing mind!"

"Does he expect me to let my kids wear an offensive t-shirt like this? This is wrong!"
Unlike Natives who scorn mascots such as Chief Wahoo, these (fictional) people are totally reasonable. Who'd accept being stereotyped as an ignorant hillbilly? Not me!
Comparison to Fighting Whites
I'm sure y'all remember the Fighting Whites intramural team from several years ago: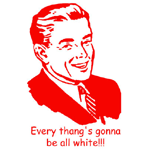 Similar idea, but as I said at the time, this image misses the mark. It doesn't portray whites in a negative light. As a parody, it's a failure, which is why no one was offended.
Cleetus the hillbilly--can we call him Cleetus Cleveland?--is much closer to the mark. I would've gone further and made the mascot a Klansman in a white hood and sheet. What could be a better symbol of white pride than that?
For more on the subject, see
Team Names and Mascots
.