Bloomberg Tells Paterson To Cowboy Up, Crack Down On Senecas Selling Tax-Free Smokes On NY Thruway
Mayor Bloomberg, channeling his inner Wyatt Earp, shot himself in the foot Friday.

The tough-talking mayor infuriated Native Americans by urging Gov. Paterson to handle a dispute over cigarette taxes by delivering some Dodge City-style justice.

"I've said this to David Paterson, I said, 'You know, get yourself a cowboy hat and a shotgun,'" said Bloomberg, blasting from the hip on his weekly radio show.

"If there's ever a great video, it's you standing in the middle of the New York State Thruway saying, you know, 'Read my lips--the law of the land is this, and we're going to enforce the law.'"

The politically incorrect crack--pitting cowboy Paterson against the state's Indians--drew a pointed rebuke from Barry Snyder Sr., president of the Seneca Nation of Indians.

"Regrettably, Mayor Bloomberg has made some reckless and insensitive statements to the people of the Seneca Nation, all Native Americans living in New York State and throughout the country," Snyder fired back.
Comment: At least he didn't say, "Gov. Paterson should scalp them before they scalp us."
Someone on Facebook commented:
You'd think Jewish people would be sensitive to negative stereotypes and the rights of nation/states who are seen as the "minority."
Yep. Imagine if Seneca president Snyder or anyone told Bloomberg, "Shape up or we'll throw you in the oven." That's roughly the equivalent of telling Indians you're going to sic a cowboy with a shotgun on them.
Bloomberg's "law of the land" argument isn't necessarily the final word. The Senecas claim their treaty right exempts them from cigarette taxes. The non-Indians disagree, and so far the courts have backed them. But the Seneca response seems to be: Our
sovereignty
trumps your laws and court decisions, not the other way around.
Underlying this, of course, is the
savage Indian
stereotype. Bloomberg is implying the Senecas are unwilling or unable to resolve the conflict peacefully. I.e., outside the bounds of civilization. Shooting is what you do to savages and other wild animals you can't negotiate with.
For more on the subject, see
Obama = "Town Destroyer"?
and
Senecas to Collect Thruway Tolls
.
Below: Does Bloomberg want to crush the Seneca figuratively?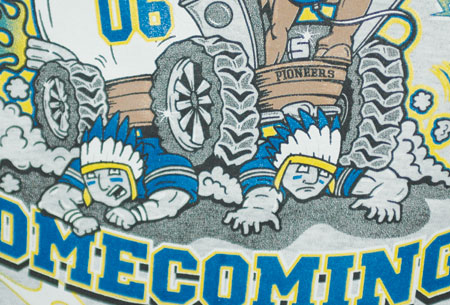 Or literally?