Redskin Magazine
A negative stereotype is hurtful, haunting and remains as an emotional scar pasted from generation to generation. The power of the spoken and written word within our modern lifestyle can now be harnessed with the united voice from our indigenous people around the globe.

We introduce you to our newest publication called REDSKIN MAGAZINE. Redskin is an Indigenous owned and operated provocative publication penetrating the critical intersection of indigenous beauty, power, politics and art through the explosive forces of sexuality and humor. With an international niche Redskin constantly grows and develops with its edgy wit, sensibility and aesthetic.

Taking cues from other successful mainstream publications, Redskin magazine looks to speak with a strong cultural voice while celebrating our unique sexuality through, the use of art, fashion, music, modeling, TV and film.

This adult oriented publication hopes to disrupt common stereotypes and barriers associated with our indigenous culture. We would like to invite you into the world of Redskin Magazine. Immerse yourself in the opportunity to voice your concerns on any issue of your choice onto the pages of Redskin.
In case you don't understand what "adult" means:
Redskin Rant!
Creating a new company and being the first ever in the world to present a format that is considered Adult can be very stressing to say the least. People can be very uneducated in what the term 'adult' really means. Here's what Wikipedia, the free encyclopedia says:

"The term adult describes any mature organism, but normally it refers to a human: one that is no longer a child / minor and is now either a man or a woman. Adulthood can be defined in terms of biology, law, personal character, or social status. These different aspects of adulthood are often inconsistent and contradictory. A person may be biologically an adult, and have adult behavioral characteristics but still be treated as a child if they are under the legal age of majority. Conversely one may legally be an adult but possess none of the maturity and responsibility that define adult character"--http://en.wikipedia.org/wiki/Main_Page

As crazy as that description is…I do not recall seeing the words "pornographic" in that description! Emotional reactionaries who bark without true knowledge and try to bite without learning a universal understanding sometimes surround us. Those are the people that make everyone's lives harder. This ADULT magazine is for Adults, because adults currently have no representation within our 'Skin-Nation'. All the current magazines we have are a needed and provide a great service, but are all geared towards serious issues, education and youth. Redskin Magazine fully supports those publications, but where is the adult represented?
Comment: Wow, a magazine that finally reveals Natives in all their semi-naked glory. A magazine that shows us how men and especially women can have buffed, bodacious bodies and still be real people. Who would've thought of exploiting Native sexuality to engage readers and make a buck too? I'm amazed no one ever came up with this idea before.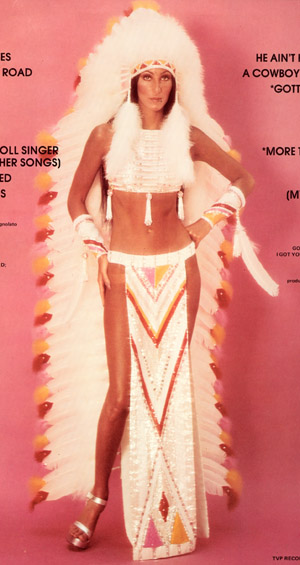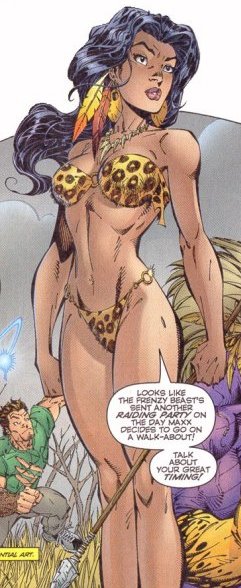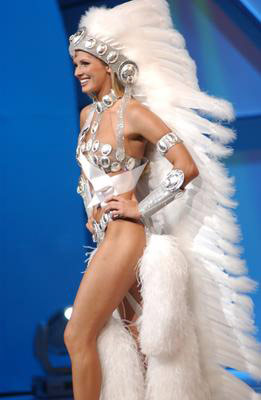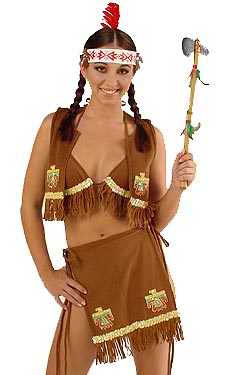 Yep...as I said, a totally creative and innovative idea. Uh-huh, sure.
The real question isn't whether Redskin will be "pornographic." No mainstream magazine could do that and survive. The real question is how bare the women will be. Will they be nude, topless, or just scantily clad? Curiously, the editors don't address this question, which seems like an obvious one to me.
I'd say there are more Native magazines for adults than there are for children. Of course, most of them do current affairs, the arts, and academic studies rather than popular culture. But for popular Native culture, you don't need a magazine, since Newspaper Rock has it all. We cover more pop culture in a week than a typical magazine could cover in three months.
Ranting about Redskin
As for the "Redskin" title, guess my opinion on that and you'll probably be right. A critique of the name practically writes itself. Why doesn't someone do it for me so I don't have to? ;-)
Anyway, I sure hope the sex-oriented Redskin magazine dispels the stereotype of Indians as
sex objects
and
redskins
. To dispel other Native stereotypes, maybe they'll have a news section called Smoke Signals. A music section called Flutes & Drums. A money-management section called Wampum. A footwear section called Moccasins. A cosmetics section called
Warpaint
. A hair-styling section called
Scalped
. (I could go on.)
If Redskin is a success, they can spin off more stereotype-busting magazines. A women's magazine called
Squaw
. A child-rearing magazine called Papoose. A home design magazine called Teepee. A fashion magazine called Buckskin. A sports magazine called
Warriors
. An executive magazine called
Chief
. (I could go on, and on.)
In short, let's reclaim these derogatory and stereotypical terms from the dustbin of history. Let's start saying them proudly and provocatively to show we're not Uncle Tomahawks. Let's make ourselves as naughty and notorious as the rappers who use "nigger."
Ahem.
For a more serious take on the subject, see
Indian Women as Sex Objects
. For a case study on the subject, see
The Rez Dog Calendar: Role Models or Sex Objects?
Speaking of Native sexuality, someone once claimed Natives used to engage in all sorts of
Kinky Indian Sex
. Check it out and tell me if he was right.