On Facebook someone asked people which they preferred:
Star Trek
or
Star Wars
? My response: Only a tribble-hating Klingon would say
Star Wars
!
I then posted the following on my Facebook wall:
Captain Kirk or Han Solo? Mr. Spock or Yoda? Enterprise or Millennium Falcon? Darth Vader or Khan? Imperial stormtroopers or Klingons? Data or R2-D2? Princess Leia in a metal bikini or Vina the green Orion slave girl? Wesley Crusher or Jar-Jar Binks? Chewbacca or a tribble? You be the judge.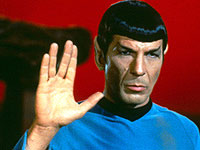 This led to the following discussion with Michael Cooke:
Well, the problem with Star Trek for me is the sexism and heterosexism of the show (I can't forgive Next Generation for having Data explore sexuality and, contrary to character--oblivious to the possibility of same sex sexuality), and the Star Trek fans that really make me regret finding any pleasure in the programming at all.

In my high school experience one unpopular Trek fan was literally driven to tears with the taunt of "Spock is Gay!"--I wonder if she slashed her wrists when George Takei came out?

Star Wars at least has its classic first movie, a truly great movie. Star Trek has had a great many movies, not one coming close to 'great'.
True, the original
Trek
did have a lot of race and gender problems. But that was a function of the era, not the show.
Let's recall that there were four series (five if you count the cartoons) and a bunch of movies after the original series. Collectively they determined the nature of the
Trek
universe. And that universe is no better or worse than any typical fantasy universe.
I don't recall any great moments of racial or sexual politics in the
Star Wars
mythology. And the point of this posting was to compare the two universes. How do you figure
Star Wars
is better than
Star Trek
in this regard, Mike?
Data's brief foray into sex was kind of silly. That happened during
TNG
's first season, when a lot of silly things occurred.
Rob, you could as easily suggest Amos and Andy aren't racist, but a product of their time. You'd be right, but the reality that they are racist in a modern context would stop you from announcing your fandom or arguing for it.

That said, I find the Star Wars universe, with its fascism, politics and poor people suffering--it's got a better claim to realism than Trek's utopian vision, in my opinion.
I didn't say the original
Trek
wasn't racist. Like every other show of that era, it was.
What I said was that the subsequent series and movies addressed the problems. They made
Trek
1) no worse than the typical fantasy universe and 2) better than
Star Wars
in that regard.
True,
Star Wars
wins on political realism. But
Star Trek
wins on cultural and biological realism. Every alien race and world in
Star Wars
is constructed of cardboard. They may
look
alien, but they have no substance whatsoever.
That's why
Star Trek
counts as science fiction (barely) while
Star Wars
is better classified as space opera.
Some better than none
At least the original
Star Trek
had
minorities in it. That's a lot more than the original
Star Wars
could say for itself, a decade later. "A long time ago, in a pure-white galaxy far away...."
When you say
Star Wars
has more political realism, you're basically dodging my point, Mike. Let's try again: How do you figure
Star Wars
is better than
Star Trek
in terms of racial or sexual issues?
Incidentally, I've criticized
Trek
at length in postings such as these:
The Indian-

Star Trek

Connection
Star Trek Voyager

: Chakotay
So try to avoid your usual tactic of assuming you know what I believe. Okay?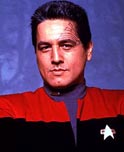 If you want to get anal about science fiction, it's a shame my father died. His stance was that unless the piece of writing was on point scientifically in every way and the speculative element perfectly plausible and useful to science as something to inquire about--the work should never be called science fiction! It must be called "fantasy"!

Really the character Data pissed me off royally in terms of 'new Trek'. No artificial intelligence interested in sexuality would be capable of ignoring homosexuality, yet Trek kept it's tradition of projecting into the future the prejudices of today.

The bottom line of course is quality, and really it's perfectly possible to create good stories for either 'universe'. So far the Star Wars cartoon is setting a new standard by being better than the latest few movies. And I have enjoyed the retro ('pre Kirk') Trek show, what I've seen of it.
Star Trek
kept its tradition of projecting into the future the prejudices of today...exactly as
Star Wars
did.
I did call them fantasy universes, not SF universes...right?
I haven't seen the new
Star Wars
cartoon, so it may be doing great things. Some
Star Trek
novels are doing great things in terms of adding political and scientific depth to the
ST
universe.
My TiVo has recorded all the new shows on network TV. I don't think I've seen any gay characters yet. In 2010,
homosexuality
is still the love that dare not speak its name.
Trek

writers = morons?
Actually the very latest Trek show (in development?) is supposed to feature a gay character or a gay couple, or such is the gossip I've heard.

I now have no TV and only enjoy what is shown online.

The science fiction argument is my father's, it's all fantasy to me, I don't distinguish. I figure if you're going to use science you should get the science right--but science is not important the way plot and characterization are important.

It actually takes effort to offend me. If the folks writing Next Generation simply thought it through, the character of Data could have developed sexual feelings like we do--not in his control. But NO, they have to have Data not know and be curious--which makes them BIGOTS to have Data never consider homosexuality--because the character most naturally would at least consider it without an existing sexuality.

Star Wars features characters comfortable in their skin and is a war story--in war what counts is if you can fire your gun straight, not who you sleep with. So the heterosexist omission is inoffensive. As for sexism, Princess Leia is far more liberated than Uhura.
Data didn't spring out of thin air, even in his fictional universe. A heterosexual scientist presumably created and programmed him. One could speculate that the scientist incorporated his sexual bias into the programming.
Star Wars
is a war story...so every aspect of it that isn't political or military is one-dimensional cardboard. Didn't I say that already?
Captain Janeway, Major Kira, T'Pol, and Dr. Crusher are among the female
Trek
characters who are deeper than Princess Leia.
They have more time devoted to them as well, Star Wars was never a TV show.

That's no excuse, the show demonstrated that sexuality was new to Data, as such they put themselves between a rock and hard place. They could have Data discover sexuality has been programmed into him and there would have been no harm, no foul. But what they did was put a character in a place where homosexuality is an inevitable question--and not raise that question. Not cool, and I know the writing is of such a caliber the writers put it in and a producer removed it! No other way unless you want to tell me TNG was written by morons.
Given the uneven quality of
TNG
, a lot of episodes probably were written by morons. <g> I suspect you or I could've done better.
But the real problem was the producers. Here, read about LGBT in
Star Trek
:
LGBT in Star Trek
Homosexuality in Star Trek
Anyway, you're putting a lot of emphasis on Data's one sexual encounter. It was a few minutes out of 178 hours in one series out of six. I'm judging the whole when I say
Star Trek
is better than
Star Wars
overall.
For more on the subject, see
TV Shows Featuring Indians
.