It was obvious what the apologists would say about the
Cowboys & Findians
episode of
The Dudesons in America
. "It's not serious. It's a joke. It's silly. It's stupid. It doesn't matter." Responses like these were as predictable as the sunrise.
Someone with the handle HomeGrown tried this defense on the Indianz.com message board:
I think sometimes people are TOO sensitive. Dudesons is stoopid, beyond stoopid even. Why people are in such an uproar over this episode is beyond me. Gaw people I understand stereotypes hurt our youth and all, but since when does anyone take the Dudesons seriously. Seriously????
Since HomeGrown hadn't seen my
Okay to Stereotype in "Satires"?
posting, I thought I'd rip this rationale to shreds. Here's my reply:
Is there a "smart" example of a movie or TV show that stereotypes Indians? What exactly would this "smart" stereotyping consist of?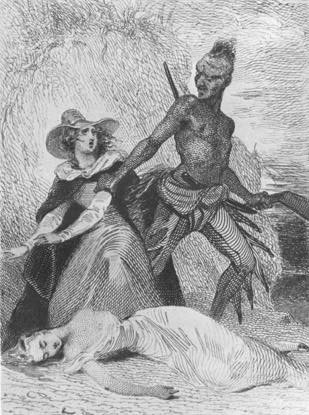 Fact is, all productions and products that stereotype Indians are stupid. It doesn't matter whether they intend to be smart or stupid. If the results contradict the facts, the results are stupid by definition.
Where do you think people learn stereotypes from: carefully crafted
documentaries
and public television?
Masterpiece Theater
and
Shakespeare
, perhaps? No, they learn them from countless stupid
movies
,
TV shows
,
cartoons
,
comic books
,
games
, packages, and so forth and so on. The smartness or stupidity of the source has little to do with the stereotypes themselves.
You could apply HomeGrown's thinking to almost any stereotype in the last 500 years. No one could possibly take
Magua
,
Injun Joe
,
Tonto
, Disney's
Pocahontas
,
Chief Illiniwek
,
Chief Wahoo
, or the Dudesons seriously, right? They're blatant caricatures that a child could see through. So why bother with them?
Great. So according to this "thinking," no stereotype has ever misled someone who knows nothing about Indians. No stereotype has ever been convincing enough to merit criticism. Because if it were convincing, it wouldn't be a stereotype, right? So I guess protesters are
bitchin' and moanin'
for no reason--playing the
victim card
because it makes them feel good and worthwhile.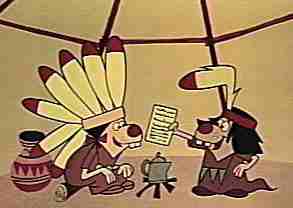 I hope someone will list the criteria we should use for judging stereotypes in the future. How do we tell the difference between 1) smart shows that use smart stereotypes, 2) smart shows that use stupid stereotypes, and 3) stupid shows that use stupid stereotypes? Give us examples of each so we know which stereotypes are worth our time.
In short, why are some cartoonish characters--e.g.,
Peter Pan's

Indians
or the
"Fighting Sioux"
--unacceptable while others aren't? I look forward to the answers.
For more on the subject, see
Saginaw Grant in

The Dudesons
and
Natives Protest

The Dudesons
. For more on the subject in general, see
The Harm of Native Stereotyping: Facts and Evidence
.