Adrienne Keene is among several people who have commented on Miss Universe Canada's costume this year:
Oh, (Miss) Canada
So, apparently, Miss Universe Canada Chelsae Duroche decided it would be appropriate to wear a headdress for the "National Dress" portion of the competition. Her stereotypical stoic Indian pose is helpful too.

From what I can find, I don't think Chelsae is Native. But honestly, that wouldn't have mattered. That's a straight-up costume shop headdress right there.

The sad thing is, she had an opportunity to do something cool. Look at her dress (once she moved the cigar store Indian arms):
Her dress is a stylized Northwest Coast design (which, again, way to combine distinct cultures--Plains headdress with NW coast dress?).
Time magazine, which labeled this one of "Miss Universe 2011's Most Bizarre National Costumes," quoted a blurb:
Miss Canada considers her First Nations-inspired cocktail dress a work of art. Her official website describe[s] it as "A Homage to Haida—Its People & Art."
Comment: The headdress isn't the only problem with Durocher's appearance. The werewolf-style teeth and tongue look fake to me. Indeed, the whole thing looks fake to me: like a child's arts-and-crafts version of Pacific Northwest art. I'd be surprised if a Native fashion designer had anything to do with it.
For those who are unfamiliar with this artistic style, see:
An Overview of Pacific Northwest Native Indian Art
Also, I suspect the skirt is supposed to represent a teepee.
"Homage" = mockery
So it's an "homage" to and "inspired" by Haida art? In other words, it's some non-Haida version of Haida art. And not a good one.
Maybe one of the elementary-school children she loves created it for her. A kid saw a chief, wolf face, and teepee in an Indian coloring book and put them all in a costume.
The polite term for this is cultural appropriation. Another term might be "mockery" or "ripoff."
As you may recall, last year a
Miss Universe Canada finalist
also appeared in a headdress. A few years ago, Miss USA appeared in a headdress: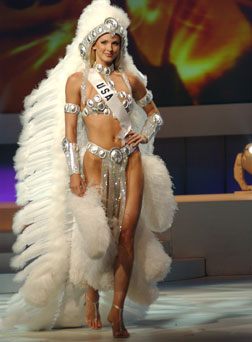 It's hard to say which of these costumes is worse. Miss USA's sexy showgirl outfit turned her into an
Indian princess
, fantasy figure, and potential abuse or rape victim. But Miss Universe Canada's outfit bastardizes a real culture's artwork by 1) copying it badly and 2) mixing it with the stupidest Plains stereotypes. I wonder if Durocher did a war whoop or dance to go along with her dress.
For more on
beauty pageants
, see
Male Warriors and Female Princesses
and
Native Girls Judged on "Poise," Makeup
.