In
Mormon Action Figures
, I discussed the traditional Mormon theory of pre-Columbian American history. You can read more about this theory in places such as these:
Archaeology and the Book of Mormon
Lamanites
Nephite
Golden plates
Let's consider what we know about the origin of Mormonism.
In Joseph Smith's time, Americans were beginning to discover Indian mounds and other remnants of past civilizations. They couldn't believe the "savages" they met could do anything worthwhile, so they postulated the existence of "lost races":
In the monuments and fortresses of an unknown people, spread over the extensive regions of the West, we behold the memorials of a once powerful race, which was exterminated or has disappeared to make room for the existing savage tribes.



Andrew Jackson, First Annual Message to Congress, December 8, 1830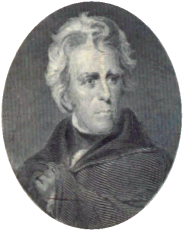 It was an era of scientific exploration: Lewis and Clark,
Darwin's voyage on the Beagle
, the
search for the Northwest Passage
. Natives were involved in many of these quests.
It also was the time of the
Second Great Awakening
, an era of religious fervor and experimentation. People were looking for scientific and spiritual answers--trying to make sense of everything from prehistoric fossils to the Pyramids to Noah's flood.
Indian mounds explained
This was the environment Joseph Smith was operating in. Now let's see how it may have affected him.
A previous posting noted how
Mormonism was built on Indians mounds
. This posting implied that Joseph Smith was something of a treasure-hunter who sought the secrets of the Indian burial mounds near his home. Also, we learned Smith probably was familiar with
View of the Hebrews
, a book that claimed a lost tribe of Israel was responsible for the mounds.
It seems likely to me that Joseph Smith was inspired directly or indirectly by Indians. He may have written the Book of Mormon to explain how a lost tribe came to America, established a mound-building civilization, and then degenerated into a bunch of "savage" tribes. The cognitive dissonance--how could
these
Indians have built
those
mounds?--may have been too much for him to let pass.

Could God have created a whole hemisphere of people with no knowledge of Abraham, Moses, and Jesus? That would've been hard for a good Christian to swallow. So Smith concocted a theory of how the Old World seeded the New World with its knowledge and experience. He decided Indian "civilizations" were a product of the superior
Judeo-Christian civilization
across the Atlantic.
In short, Indians may have been the scientific and religious problem Smith wanted to solve. The rest of the Book of Mormon may have been window-dressing around this central mystery.
On the religious frontier
If that wasn't Smith's specific motivation, perhaps he was inspired in general by the mysteries around him. Mounds...buried treasure...lost races...ghosts and spirits...prophecies...gods. This stew of scientific and religious fervor may have inspired his von Däniken-style blend of myth and history. Indians were a big part of these mysteries even if Smith didn't intend to explain them.
As I said in
America's Cultural Roots
, the frontier that faced Americans was a frontier of Indians. From the War of 1812 to the Trail of Tears, clearing the east of Indians was America's biggest problem. Accomplishing this removal meant
demonizing the Indians
--transforming them from noble savages into
savages
, period. Smith's Book of Mormon helped accomplish this.
I don't know if anyone else has suggested an Indian influence on the birth of Mormonism. If not, let me be the first. Whether it has any validity or not, it's fun to think about.
Below: "The Israelites were here first, so this so-called Indian land really belongs to you."