Wham! Pow! The CDC Goes to Comic-Con
By Stephanie Woodard
Chances are, disease control was not top of mind for the tens of thousands of wildly costumed attendees at the coolest event in the universe last week--Comic-Con's 3-day New York City extravaganza. Nevertheless, many visitors, garbed as superheroes, Manga figures, and more, stopped by the U.S. Centers for Disease Control's booth there for a look at the agency's cheerful exhibit of diabetes-prevention books and other health-education products for Native American children.

"Patrick got us into this. Most of us are boring scientists," laughed writer Teresa Lofton over the din. A public-health specialist, she collaborates on the books--part of the CDC's Eagle Books brand--with artist Patrick Rolo, from the Bad River Band of Ojibway. A longtime penciller (the person who draws the figures that'll be colored in) for "Spiderman," "Mortal Kombat," "Nightmare on Elm Street," and other comics, Rolo knows his way around the industry and told CDC scientists that the world's largest popular-culture convention was the place to be.

Rolo (below with a cutout of Coyote, one of the stories' animal protagonists) explained that the colorfully illustrated books teach Native children on reservations and in urban-Indian communities to control diabetes through proper nutrition, exercise, and traditional beliefs. The initial works were for little kids; at Comic-Con, the team introduced the first of an upcoming chapter-book series for 10-12-year-olds, Coyote and the Turtle's Dream. A graphic novel and comic book are in the works.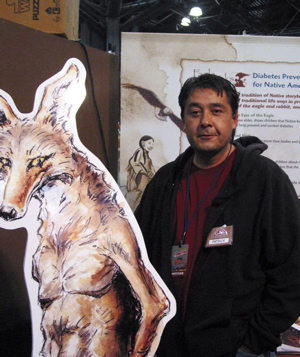 The books are also available as animated videos on CDC-TV, which I assume means the Internet:
Health Education via Animated Eagle Book Series
Animated versions of the award-winning 'Eagle Book' series are available through CDC-TV. Originally designed to promote culturally-based information about diabetes prevention, physical activity, nutrition and healthy eating among Native American children, the videos may appeal to children and parents of all cultures and represents CDC's efforts to prevent diabetes.

If you have ever wondered what a book would look like if it came alive, view one of the 4 animated Eagle Books. Published in 2006 and animated in 2008, the 'Eagle Book' characters--Rain that Dances, Little Hummingbird, Mr. Eagle, Miss Rabbit and Coyote--promote diabetes prevention, physical activity, nutrition and healthy eating through animated watercolor illustrations and engaging voices. While the characters and books were originally designed to provide culturally-based information for Native American children in kindergarten through fourth grade, the series (available through CDC-TV) may appeal to children and parents of all cultures. The health messages support CDC's efforts to prevent diabetes.
Comment: I think this article is referring to a comics convention in New York City, not
the
Comic-Con. I believe that name applies only to the annual San Diego Comic-Con.
I've tried to get Rolo to work on PEACE PARTY, but I guess he's too busy with these books. Darn.
For more on the subject, see
Through the Eyes of the Eagle
and
Eagle Books Promote Healthiness
.